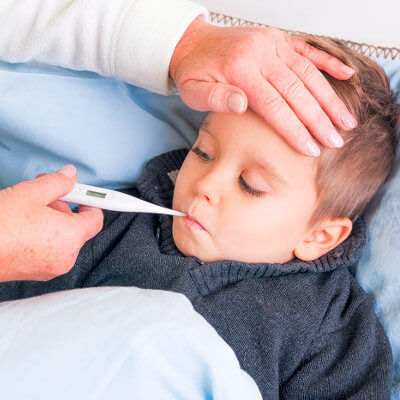 When a child falls ill, it is often necessary for one of his parents to be away from work in order to be able to stay at home with him and care for him. But what are the rights for an employee regarding sick child leave? How long does it last? How does it work in case of a serious illness? We help you to answer all these questions.
1. Leave for sick children in the event of short-term illness.
Flu, angina, or a common cold, as soon as the child is sick and the doctor recommends rest at home, the employee is entitled to a few days' leave for sick children. No particular profile is privileged. This leave is a right, regardless of the employee's place in the company or seniority. However, there are certain conditions for claiming this leave:
The child must be under 16 years of age. Beyond that, it is estimated that they can keep themselves.
The doctor must have provided a medical certificate attesting to the child's illness and prescribed rest in order for the child to recover.
An illness usually occurs suddenly, which is why the employee is not subject to any delay in notifying his employer. He can do so the same day by calling his work to inform him of his absence and the reason for it. Upon his return, he must hand over the medical certificate to the employer or send it to him during the period of parental leave for sick children. It should be noted that if the employee has a medical certificate and his child is under 16 years of age, his employer cannot refuse him sick child leave. It is a right, not a privilege.
The duration of sick child leave:
Legally, an employee is entitled to three days of sick child leave per year. However, the duration of this leave may be increased by two days under certain conditions:
If the sick child is not yet 1 year old.
If the employee's household has at least three children under 16 years of age.
That is, the three-day leave (or five days if the employee meets the conditions) is valid for all children. An employee cannot request leave for each of his children. Whether he has one or three dependent children, his sick child leave does not move. The three days of leave to which he is entitled do not therefore have to be taken consecutively. For example, the employee may take one day to take his child to the doctor and stay with him for the rest of the day and return to work the next day. The remaining two days may be taken for the child's next illness, or another of the dependent children. Nevertheless, some collective agreements provide for longer leaves or with more interesting provisions. It is therefore important that all employees are aware of the collective agreement of the company for which they work. In this way, he will know what he can expect.
Sick child leave and pay:
The Labour Code specifies that during sick child leave, the employee does not receive any remuneration. But, once again, some collective agreements introduce more favourable provisions.
2. Leave for sick children in the event of long-term illness.
When it is a long-term illness, serious illness or disability, the employee is then entitled to two other forms of leave, namely parental attendance leave and compassionate care leave.
Parental attendance leave:
The employee may benefit from this leave if his child suffers from a serious illness or disability requiring restrictive care and a sustained presence. In order for the employee to benefit from this leave, his child must meet certain conditions:
He must be under 20 years of age.
If he receives a remuneration, it must not exceed €898.83.
He must not receive housing benefits.
The employee must submit his leave request to his employer at least 15 days before the desired start date of the leave. He must then send a registered letter with acknowledgement of receipt or hand-deliver it against a receipt. This request must be accompanied by a medical certificate attesting to the child's state of health.
The duration of parental attendance leave is 310 working days per sick or disabled child. During this leave, the employee receives a daily allowance of 42.97€ if he/she is a couple and 51.05€ if he/she is single.
Caregiver leave
This leave may be taken for a sick child or other family member, such as spouse, parent, etc. This leave is granted only in the event of serious illness or disability requiring care and attendance.
The employee must submit his leave request to his employer at least 60 days before the start of the leave. As with parental attendance leave, he must do so by registered letter with acknowledgement of receipt or hand-deliver his request.
The duration of this leave is three months, which may be renewed. The total duration may not exceed one year over the employee's entire career. If the employee decides to split his leave, he must notify his employer at least two days before each period of absence.
Caregiver leave results in a stoppage of pay. However, it is possible for the employee to negotiate a partial activity with his employer.
Donating a rest day:
Act in solidarity and generosity, the donation of rest days is possible. In other words, an employee has the right to give a colleague whose child is ill one or more days of rest due to him or her. This requires that the child be seriously ill and under 20 years of age. To give his days, the employee has the obligation to go through the employer.