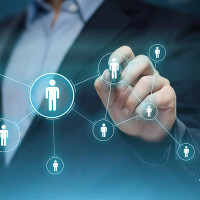 HR practices are constantly evolving, which is beneficial to the development of companies. Recruitment is one of the areas that has undergone significant reform. The methods applied follow the digital evolution and e-recruitment is growing. Nevertheless, some companies have difficulty understanding the real benefits of e-recruitment. Leaders are therefore reluctant to adopt this revolutionary practice. Overview of the advantages/disadvantages of e-recruitment.
E-recruitment? Quésaco ?
The principle is to find new recruits by exploiting the growth of digitalization and the Internet. Companies therefore use online platforms, not to mention creating a recruitment portal on their own sites. The advantage of e-recruitment is that there is the prospect of making the company better known to potential candidates. Including links to the company's website or account on social networks is a possibility. The profiles know what they are committing to, which simplifies the recruitment process.
This popular practice also makes it possible to use the resources made available via the Internet to manage the various recruitment stages. This concerns both the sorting of CVs and strategies to attract relevant profiles, the implementation of an interview via the Internet, etc.
In other words, e-recruitment means completely digitising the steps leading to the integration of new employees into the company. But not everything is limited to digital tools. Human involvement remains essential and that is where the HRD comes in.
Advantage and disadvantage e-recruitment
It is more appropriate to look at both the advantages and disadvantages of e-recruitment in order to identify its real potential. It is an approach that allows HR to adopt the right strategies by avoiding the few pitfalls that can harm the company.
The main advantages of e-recruitment
It is obvious that the web and digital tools have become essential to companies. In particular, they ensure optimal time savings, the main advantage of e-recruitment. You write the job offer, you post it immediately on your website or specialized websites. You have the opportunity to receive applications within minutes. This approach can lead to a remote hiring interview, another advantage of e-recruitment. HR and applicants are connected by video via the web. The exchange takes place as in person. If the candidate's profile suits you, you can reach an immediate agreement.
Using the web to recruit reduces the expenses you incur. You do not pay fees for printing job offers, you do not go through recruitment agencies that often require a commission. In addition, the processing of data (required profiles, applications received, etc.) is fully digitized. You will therefore be able to access this information later and use it for new calls for applications. This is another advantage of e-recruitment.
If you want to recruit discreetly, you can directly consult the CV libraries online. In this case, it is not necessary to make an announcement. You contact the applicants who have caught your attention and give them a preliminary interview. This speeds up the process.
The benefits of e-recruitment do not stop there. You don't have any specific recruitment topics on your website? Several alternatives are available. On the one hand, there are the generalist sites. They make it possible to find candidates within a specific geographical area, across all sectors of activity. On the other hand, there are sites that focus on specific activities (building, decoration, etc.), or even very specific professions. HR can therefore choose the most appropriate solution.
Social media is a real advantage for e-recruitment. They make it possible to reach entire communities where HR can find new recruits. Publications can be shared on a large scale, at no additional cost, without geographical restriction. All this complements the efforts made by HR.
Finally, digitisation simplifies the pre-selection of applications. In particular, questionnaires can be put online to assess the potential of applicants, their motivation and the relevance of an interview. Remember that travel is not necessary. A candidate who is seriously interested in the position but resides in a location far from the recruiter can conduct the interview remotely and arrange for the move once hired.
The disadvantages of e-recruitment
Whoever says advantage and disadvantage e-recruitment necessarily evokes the limits of this attractive method.
Let's take the maintenance process as an example. Being non-attendance, is this an advantage or disadvantage of e-recruitment? In reality, it all depends on the sector of activity and the specific requirements of HR. Some professions, for example, require a physical meeting in order to subject each candidate to specific tests. This presence is also desirable so that the candidate can meet the staff and get an idea of his or her future working environment if engaged. Other professions are less demanding, knowing that some professional missions can nowadays be carried out remotely.
HRDs sometimes wonder what the advantages and disadvantages of e-recruitment are in relation to their digital policy. The question does not arise in the case of a company that has adopted digital strategies. On the other hand, e-recruitment is not relevant if no team member is present on professional social networks, if the company has no visibility on the web, etc.
If we consider that in the end, we know nothing about an applicant other than what he mentions on his CV, is this an advantage or disadvantage of e-recruitment? It is necessary to implement solutions to sort applications in order to evaluate candidates who are not physically encountered. This is a barrier if HR does not master the tools they use. The stakes are high because hiring a candidate with a misleading profile can harm the company. The question is: how to know exactly which profile belongs to a real person and which ones are wrong?
In the end, the advantages and disadvantages of e-recruitment are closely linked. It is up to HR to define specific frameworks to make this practice an asset. In case of doubt about these advantages and disadvantages of e-recruitment, it is always possible to combine it with traditional hiring methods.