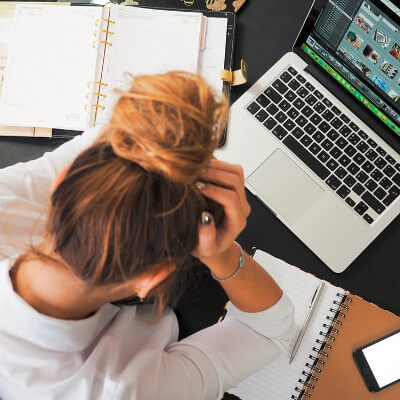 The post-vacation blues and the stress that precedes the return to work make it difficult to start the school year. The feeling is similar to the children who go back to school dragging their feet at the end of the summer holidays. First of all, it is important to know that it is normal to have difficulty returning to work after the holidays. However, this recovery can be less painful thanks to some very simple tips that we would like to share with you.
Tip #1: anticipate recovery
It is important to be prepared to return to work after the holidays before you even take the leave. The best thing to do is to close all the files in progress so that you can leave with peace of mind. In parallel, it is necessary to plan what will be done on return. Drawing up a list makes it possible to resume the pace without neglecting the organization. Before leaving the office, it is better to put it in order. In this way, it will be more pleasant to return to work after the holidays because the environment encourages motivation.
In the same spirit, we must find the right strategy to get back in the game. There is no perfect method, it is really on a case-by-case basis. Some of them regularly check their e-mails during the holidays to keep up to date. Others make contact with their professional environment the day before the start of the school year. There are also those who are waiting to arrive at the office to really get back to work after the holidays. It's as you feel.
Tip #2: never force yourself
Obviously, you won't be at your best for the first few days. Don't feel guilty, returning to work after the holidays requires a certain transition period. You have just spent several days of carefree, dolce vita and you return to a stressful world. It will take an average of 3 days to regain your rhythm.
Start by sorting out the tasks to be done because not all of them are essential. Prioritize your missions and correspondences in order of urgency. What needs to be done during the day? What is to be completed during the week? What do you need to finish by the end of the current month? By being methodical, you save yourself unnecessary pressure. The first day should be a smooth one so that you can get back on track. Take the opportunity to discuss with your colleagues. They can brief you on what has changed during your absence and help you get used to the pace imposed by your job.
Attention, returning to work after the holidays does not mean procrastinating. Take the time to finish what you start. As time passes, the task becomes more urgent. You may collapse under enormous pressure at the last minute, which will certainly spoil the magic of the holiday you have just enjoyed. The trick is to deal with one subject at a time, as far as possible.
Tip #3: clinging to fond memories
You certainly had a great time during the holidays. The start of the school year does not oblige you to forget it, quite the contrary. It is possible to return to work after the holidays with these memories. For example, use your holiday photos as a wallpaper. Listen to music that reminds you of the good times to motivate yourself. This way, you don't suddenly cut off from the pleasures and there is less risk of suffering from the back-to-school blues.
Tip #4: Learning to manage stress
A sudden change
We agree that it is not easy to go from idleness to a hectic pace. It's a little depressing. However, we must not give in to this blues because it does not last long. Learn to readapt. Yes, freedom is already far behind you and it is the constraints that are now accumulating. But it's not the end of the world.
Allow yourself time
Allow yourself a period of time to adjust and do not hesitate to ask those around you to help you get back to work after the holidays.
Stress sometimes comes from an excessive number of resolutions. "As soon as I get back to work after the holidays, I do this, I change that, etc." The mistake is not to want to evolve but to want to do too much at once. It is necessary to remain realistic in order to be able to identify objectives that do not cause unnecessary stress.
Tip #5: the positive attitude
Relativate
All good things come to an end, holidays too. But returning to work after the holidays is not inevitable. Besides, how do you finance your holidays? While working, of course! All the more reason to return to work in a good mood. Thanks to him, new experiences are already on the horizon.
It is normal if you exhaust yourself quickly at first. This is because your body remembers the relaxation you gave it during the holidays. Give yourself the means to return to work effectively by finding the right balance between obligations and pleasures. Instead of staying locked in the office all day, take a few minutes outside to get some fresh air.
Continue your activities
Also keep some good habits that connect with the holidays. Just because you work doesn't mean you have to forego aperitifs with your family and family outings. Give yourself special moments to take care of yourself, to have fun with your loved ones and to perpetuate the good habits you have acquired during the holidays. This summer, you may have started playing sports. Your work should not prevent you from continuing this activity. Have you discovered new gourmet and healthy recipes? Shop and prepare yourself some good food that you can eventually enjoy at the office.
In the end, recovery should not be considered a bad thing. See it as an opportunity to plan a new vacation that you will remember for years to come.